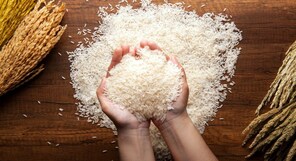 Shares of rice companies are on the rise following reports that the Indian government is set to officially announce a reduction in the minimum export price (MEP) of basmati rice to $950 per tonne. The current MEP of $1,200 per tonne has been impacting rice shipments.
Earlier, it was reported that the government was considering a proposal from exporters to decrease the MEP for basmati rice. Rice exporters from Punjab, Haryana, and Uttar Pradesh had presented their recommendations to an inter-ministerial committee, emphasizing the need to lower the MEP to enhance export competitiveness.
The latest updates confirm that the government has decided to reduce the MEP for basmati rice shipments to $950 per tonne from the previously fixed $1,200 per tonne on August 25. As a result, shares of companies like KRBL and LT Foods have surged by 1.5%, and Chaman Lal Setia is up over 1% on BSE. Kohinoor Foods shares have seen a significant increase of over 5% and are trading at ₹36.
The rice industry stakeholders had been urging the government to lower the MEP to boost their export competitiveness. They faced challenges securing orders at international food fairs in Istanbul and Iraq due to the higher MEP, which led to losing orders to competitors from Pakistan and Thailand. This reduction in MEP aims to address these issues, ensuring India's position as a leading exporter of premium basmati rice.
This move is expected not only to benefit the rice industry but also to maintain affordable rice options for Indian consumers. Additionally, it will support the country's rice farmers by enabling them to obtain competitive prices for their produce.