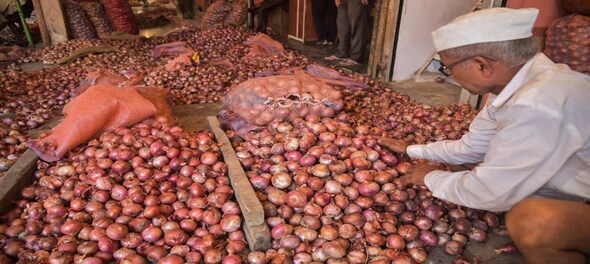 In an effort to stabilize domestic onion supplies, the government implemented a minimum export price of $800 per metric tonne over the weekend. However, the soaring onion prices have become a major political issue in the run-up to the 2024 Lok Sabha and Madhya Pradesh assembly elections.
In a recent interview with ANI, a buyer in Mumbai expressed concern over the steep rise in onion prices, which have surged from ₹80 per kg to potentially over ₹150 per kg. The escalating prices have led consumers to reduce their purchases, with many opting for smaller quantities due to the poor quality of available stock, according to vendor Suresh Chaudhary.
To protest against the rising prices, Congress leader Ragini Nayak wore a garland made of onions and criticized the BJP governments at both the central and state levels for the distress caused by the exorbitant onion prices. Nayak highlighted the impact of rising prices not only on the general public but also on farmers, who are forced to sell onions at extremely low rates while consumers pay significantly higher prices.
To alleviate consumer concerns, the central government decided to sell buffer onions at a subsidized rate of ₹25 per kg in retail markets. Despite these efforts, retail prices in the national capital have surged to ₹65-₹80 per kg. Experts attribute the price hike to hoarding, leading to a shortage in supply and inflated prices. Rishu Arora, chairman of Ludhiana's New Vegetable Market, warned that if hoarding continues unchecked, prices could further rise to ₹120-150 per kg in the coming months.
The escalating onion prices have become a focal point for political debates, with Congress leader Nayak criticizing the lack of concern displayed by the ruling BJP leaders. The situation in Madhya Pradesh, where assembly elections are imminent, adds urgency to the issue.
The root cause of the rising onion prices can be traced back to unfavorable weather conditions, including delayed kharif onion sowing and depletion of stored rabi onions, leading to reduced crop coverage and late arrivals in the market. These factors have contributed to a tightening supply situation, resulting in higher prices in both wholesale and retail markets.
It's important to note that the government has imposed a minimum export price of $800 per metric tonne for onions, effective from October 29 to December 31, in an attempt to ensure adequate domestic supply and stabilize prices. This decision applies to all onion varieties except Bangalore Rose and Krishnapuram onions, as well as cut, sliced, or broken onions in powdered form.